Dutch Gable Carports
Custom Design Dutch Gable Designs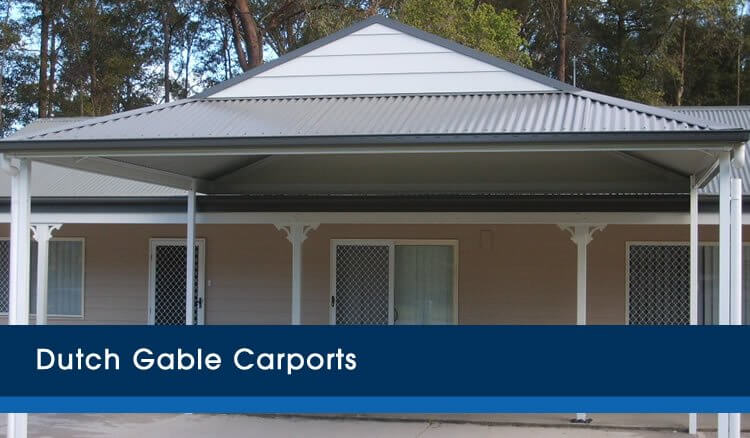 Dutch Gable Carports fit in perfectly with modern house designs that utilize similar roofs. These stunning designs can extend from your roofline providing a facade with an impressive traditional quality. There is a wide selection of carport kits and custom designs available to cover cars, caravans, boats, trucks, entertainment area or shelter anything. The affordable and durable Dutch gable carports give years of maintenance free service and offer great value for money while increasing your property's value. If you are interested in learning more about this design contact Pro Carports Brisbane for design consultation.
What is a Dutch gable carport?
The Dutch gable carport gets its name from the shape of the roof and particularly the piece on the top, called a gable. The gable is the triangular portion which is placed on the peak. It's the gable that turns the carport into a style icon that oozes sophistication. Available as freestanding or attached to your house, it can be built onto a slab or with columns into cement footings.
Components
Purlins – This is the steel that will make up your carport's frame.
Top hats – This is the steel member that runs across the frame. It allows you to screw your roof sheets to.
On Slab Footings– This is for the bolt down on slab option, this is a bracket that sits flat on the ground and has a connecting point to bolt your columns onto.
Multiwall sheet – Lightweight, impact resistant, will protect your car from all-weather condition.
Sheet Closures – Seals the multiwall to stop dirt entering the carport roof.
Glazing Bar – Required if more than one multiwall sheet is used.
Fixing buttons – Used to fix carport sheets
Cantilever – Standard 1.3m front and rear cantilever allows for easy entry and exit.
Skylights – Customization is possible with this design. Nowadays, there is an expanding range of available options such as skylights that should be able to meet your every need.
Common Specifications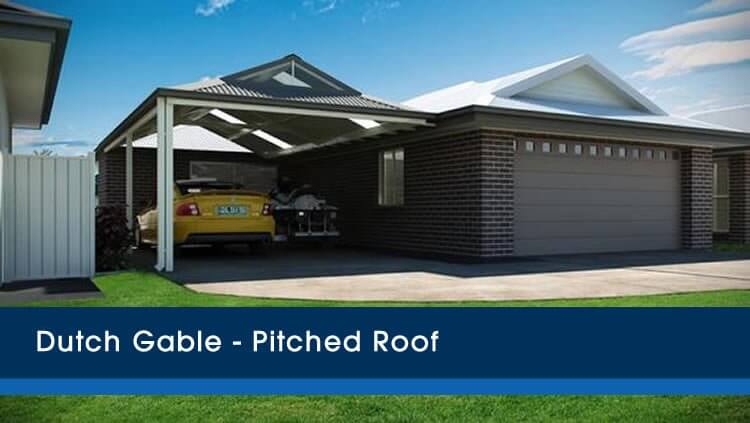 Dutch Gable carports usually have 15, 20, 25 and 30 degree pitches. So, there is a roof pitch that will compliment any house roof. They use a huge 158mm portal beams that allow spanning beyond 10 meters.
Materials Used For Construction
Colourbond Steel
Colorbond steel will ensure that your carport kits lasts. The Colorbond components can either be pre-painted or metallic-coated, meaning they won't peel, corrode or flake anytime soon. They are termite, rot and warp resistant as well. You won't have to freshen the paint; just wash down the car port with water to keep it looking as good as new. You will get superior quality Colorbond steel car ports that are worth the cash you spend.
Aluminum
When it comes to a building a Dutch Gable, aluminum ticks a lot of boxes. It's lightweight, doesn't rust, and gives you a great, low maintenance finish. And because aluminum is so resistant to natural elements, it's the best option if you live in bay or coastal areas.
Timber
As you'd expect, timber carports are made using timber for the entire framework. This includes the supporting posts, rafters, and beams and so on. To ensure that the timber can stand up to the weather conditions, treated pine or timber is used. The roofing of your timber carport can be any of the standard types of roofing such as Colorbond, Zincalume or polycarbonate.
Design Options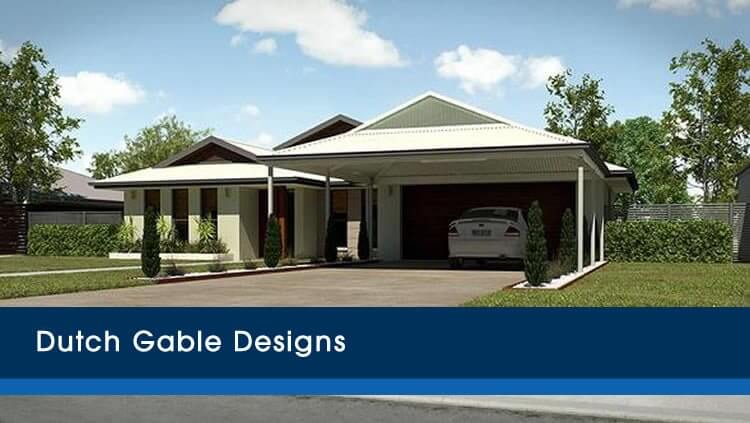 Carport screens are available in the full range of COLORBOND colors, powder coat, Zincalume or specialist "woodgrain" finish. You will also get lattice, fixed and adjustable louvers, shutters, slating, flatting and angle designs and custom sizes and variations. Your consultant will create a 3D image of your dream carport using state of the art computer software.
Advantages
> The design of these carports includes eaves on all sides. This minor addition aids in protecting walls from harsh weather, including rain and snow. The eaves will also provide some shading over windows, which will aid in keeping the home cool.
> The stand-alone gable can help provide the same efficient liquid displacement, keeping the roof dry, comfortable and free of structural damage as the water slides down the drip edge. It creates extra ventilation and can be a nice decorative touch.
Disadvantages
> Extra framing is required to build the Dutch gable carport, requiring more time and timber.
> It is more prone to leaks.
Prices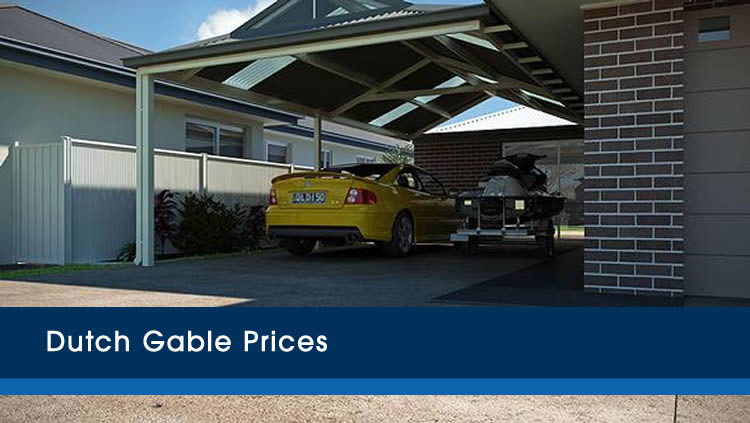 Kit form – The cost of Dutch Gable carport kits is $2500. Carports that can accommodate two cars cost around $5000.
Custom built – This will take into account several factors such as:
Concrete-Concrete is priced on average at $75 per cubic yard.
Corrugated PVC Roofing-24 inches X 16 feet panel or length will cost a home owner an average of $12 to $15.
Colorbond Steel – Average costs of Colorbond steel roofing sheets are $29 per square meter.
Optional Extras
Carpentry – The hourly wage is generally approximately, $70 per hour.
Lighting and wiring – On average, the hourly rate of electricians tend to be within the range of $65 to $85.
Conclusion
Dutch Gables are built stronger and safer than your average carport and will outlast any vehicle you keep underneath it. Using this design option, you get the perfect cost-effective classy carport which can fit in perfectly with modern house designs that utilize the classic Dutch Gable.