Carport Design Ideas
Options for Roofing, Materials and Construction
A carport can be a great addition to your property when you don't have enough room for a garage. It can also be constructed to park your additional cars and enhance the appearance of your property. There are many ideas for modern and beautiful carports, but your location, space and budget will decide which one will be perfect for you. If you are interested in discussing your ideas, get in touch with with a professional carport builder who can assist you with the design and installation procedures.
Carport Roof Designs
Here is a look at the top carport design ideas that you need to look at.
Flat Roof Carport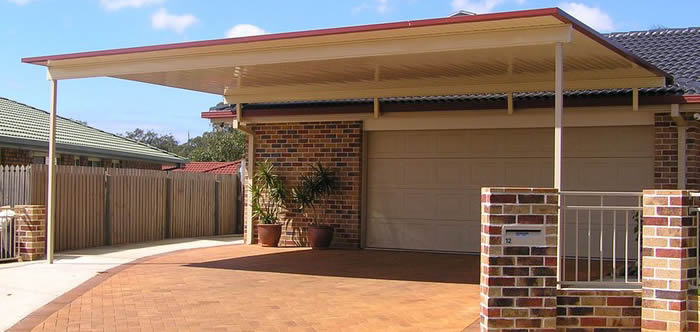 It is the most common type of carport roof and can easily be customised to suit property. Going by its name, the flat roof is entirely flat without any pitch. There can be a slight pitch for draining the water away. This design can easily be constructed in any open space or by the side of your house. A flat roof carport can be made to park single or multiple cars.
Advantages
It is cheapest to build and maintain
You can install solar panels or keep heating units on the extended flat space of the roof
Disadvantages
Maintenance cost can be significant in the long run
Not suitable for areas with heavy rainfall or snowfall
You can make your own flat roof carport by following this guide.
Gable Roof Carport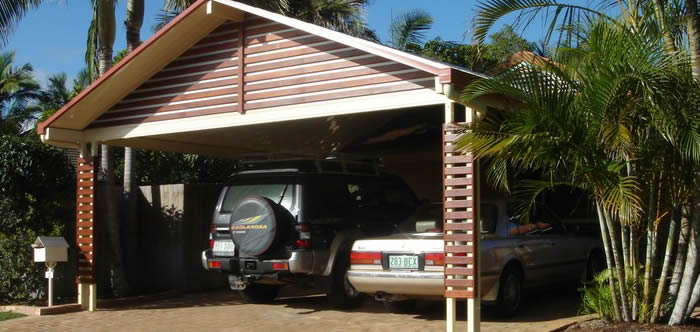 Gable roof carports have two sloping sides on the roof that meet at the top and appear as a triangle when viewed from the front. The construction offers wider span and increased versatility than the flat roof carport. The pitched roof is ideal for draining away water and snow and also looks elegant. The angle of the roof can also be customized depending on your requirements. It is easy to install and anyone with basic constructing knowledge can do it.
Advantages
Easily drains away water and snow
Simple and easy to build
Best for areas with heavy rainfall or snow
Disadvantages
It may not be suitable for stormy and high wind regions
While sturdy, there are better options for you out there
Hip Roof Carport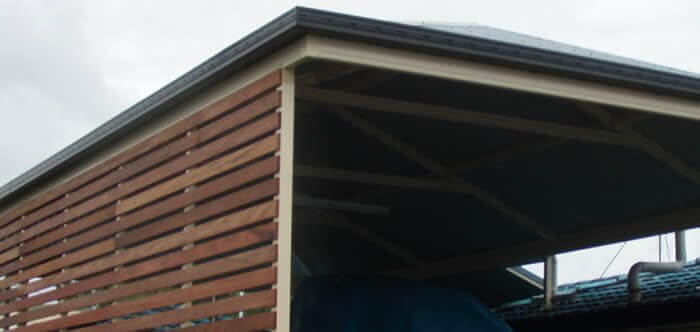 A hip roof carport has slopes on all four sides of the roof. The sides come to meet at the top at the ridge called 'hip' and are normally of equal length. The angles of the slopes are also gentle without steep inclines.
Advantages
The inward slope of the roof makes it one of the most stable structures
Suitable for high wind, rain and snowfall areas
The space formed inside by the slopes can be customized and used for storage
Disadvantages
More difficult to construct
You need more building materials and the expense is also significant
Prone to water leaks if ridges are not properly installed
Dutch Gable Roof Carport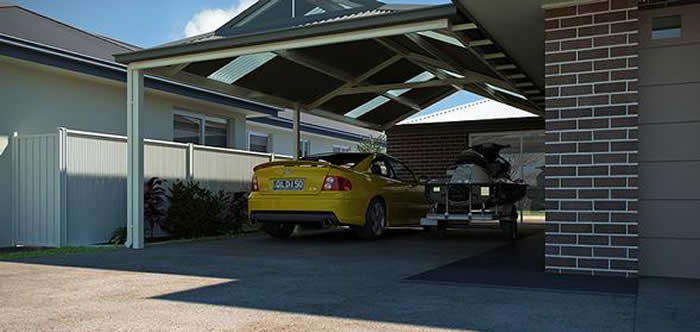 When you need style and sophistication, nothing beats the Dutch gable carport. It is a combination of the hip roof, and features a cool gable roof at the top. It gives your structure the 'wow' factor and enhances the appeal of your property. You can also use the carport for entertainment purposes as it looks stylish and elegant.
Advantages
It is the most unique and aesthetically pleasing option
Increase the value of your property
Disadvantages
The construction is very complex in nature\
You will need to invest more to construct this structure
The gable top does not serve any practical purpose
Materials for Construction
Carports can use different type of materials for the construction of the roof, pillars and other parts. Let's take a look at the common ones.
Colorbond Steel
Introduced in 1966 for the first time, it is one of the most popular choices for roofing. The material has been developed and tested to meet Australian conditions and are durable lasting a long time. It comes with 5 layers of protection and features a wide range of colours to suit your preferences. The accessories like downpipes, gutters, and fascia are also manufactured with Colorbond Steel. The light colours are ideal to keep the interior of the structure cool on sunny days.
Aluminium
Though it is a bit expensive, you can get the best stylish material by choosing aluminium for your carport. Powder-coated aluminium parts are featured in different colours to compliment your property. It is also lightweight and gives endless possibilities when it comes to designing. You can even order complete factory made aluminium carports of different designs.
Other Materials
You can also have your carport made from materials like timber, durable plastics or metal. These materials are easy to maintain and look new for a long time. Consider using similar materials if your carport is attached to a building to maintain consistency. Recently, pressure treated timber or metal beams are also used for the construction
Carport Posts
The parts of your carport like beams and posts also come in different materials. It is best to choose the same material as the roof to get a complete look and feel. For example, if you are building a traditional timber carport, you should also use beams and posts made of timber. Materials like steel are also useful and can be paired with aluminium structures and other metal structures. In the case of factory-made carports, the company will decide the materials which are the most suitable.
Open Vs. Enclosed Carport
There are no major differences between an open, enclosed and partially enclosed carport other than their appearance. A simple carport with a roof and open sides is not enough to give complete protection to your car from the weather elements. That is why many people opt for walls on the sides of their carport for offering maximum protection. You can use this information to decide which one will be suitable for you.
There are endless ideas when it comes to designing your carport. You have to determine your requirements after surveying your property, the number of cars, geographical location and pick the one best for you. Pinterest is a great resource for viewing images on carport design ideas, you can check them out here.
Further Resources
Interested to see more carport design photos? Visit Houzz which showcases images from both builders and property owners.